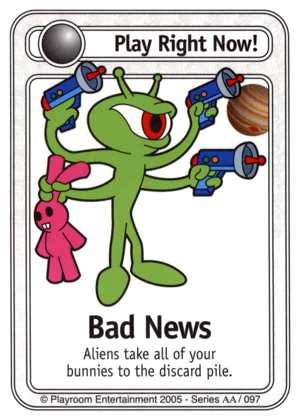 Bad News cards are found in the Sunshine Yellow Booster Deck of KinderBunnies: Their First Adventure! and work similarly to Terrible Misfortune cards in Quest for the Magic Carrot and Conquest of the Magic Carrot. Two of the cards require the player to discard a bunny (references to death are removed from KinderBunnies), one requires the player to discard all bunnies, and the fourth requires the player to discard all but one bunny and to return all but one carrot. Unlike Terrible Misfortune cards, if the player has no bunnies in the Bunny Circle, then the card is discarded rather than being played on an opponent's bunny.
Ad blocker interference detected!
Wikia is a free-to-use site that makes money from advertising. We have a modified experience for viewers using ad blockers

Wikia is not accessible if you've made further modifications. Remove the custom ad blocker rule(s) and the page will load as expected.