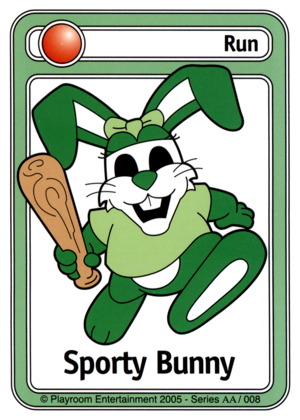 Kinder bunnies
are
Bunnies
that were included in
KinderBunnies: Their First Adventure!
, the child-friendly version of
Quest for the Magic Carrot
. Because
KinderBunnies
can be mixed into
Quest
or
Conquest of the Magic Carrot
games, various cards in the full games specifically reference or apply to kinder bunnies.
Dago Bunny
,
Baby Bunnies On Board
, and
Cairo Practor
are examples.
There are four types of basic kinder bunnies:
Hero Bunny
,
Perky Bunny
,
Smart Bunny
, and
Sporty Bunny
. These bunnies come in each of five colors. The
KinderBunnies
Sky Blue Starter Deck
included a version of each kinder bunny in blue, green, orange, and violet, while the
Sunshine Yellow Booster Deck
, included in the box with the Sky Blue Starter, added yellow kinder bunnies. The Sunshine Yellow Deck also added one additional kinder, the red
Adventure Bunny
who is immune to
Safety Hazards
.
One interesting feature of the kinder bunnies is that they have gender -- girl kinders have bows in their ears while the boys do not. The Quest card Beauty On Duty recognizes this distinction and can only apply to female kinders. Different colored versions of the basic bunnies have different genders. For instance, the blue, orange, and violet hero bunnies are boys, while green and yellow are girls. Other types of kinder bunnies have boys and girls in a different mix of colors.
Ad blocker interference detected!
Wikia is a free-to-use site that makes money from advertising. We have a modified experience for viewers using ad blockers

Wikia is not accessible if you've made further modifications. Remove the custom ad blocker rule(s) and the page will load as expected.