The Omega series was the first set of promotional cards released for Killer Bunnies and the Quest for the Magic Carrot. The series was revived for promo cards for Killer Bunnies and the Conquest of the Magic Carrot.
The original Omega cards were as follows:
These twelve cards were reprinted as cards 0717-0727 of the Chocolate Booster Deck. The reprinted cards include a Greek letter Omega in the colored bullet in the top left of the card.
Omega Series Revivals
Edit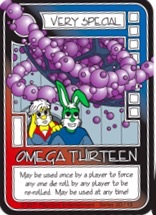 Upon the release of Conquest, Creative Team Alpha revived the Omega series for that game. Four new Omega promos were created: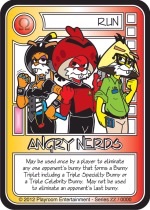 Additionally, a new Omega card was later released as part of the Kickstarter campaign for the
Deluxe Edition
.
Alternate-art versions of Angry Nerds were created with the Quest and Conquest card backs.