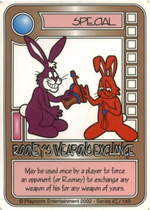 The
pink box
is a rectangular box in the bottom left corner of the art box on many cards in various 
Killer Bunnies
 games. If this box is "lit," that is, if it is colored pink, the card is considered
aggressive
and cannot be played unless the player has a
bunny
in the
Bunny Circle
. The exception is
Choose a Carrot
cards, which are not aggressive, but nonetheless require a bunny in the Bunny Circle to be played. If the card may be played regardless of whether the player has a bunny in the Bunny Circle, the box is left blank.
In some games, cards can display a pink box with a pink circle superimposed. These cards require the player to control a bunny in the Bunny Circle at all times while the card is saved. If at any point the player has no bunnies, the saved card is immediately discarded.
In KinderBunnies: Their First Adventure!, the pink box is replaced by a pink star that functions in the same way.
In addition to the pink box, cards in Ultimate Odyssey and Heroes vs. Villains can also have a green rectangular box. If the green rectangle is lit, the card may be played only if the player controls a city in the City Circle. Similarly, cards with an orange or black rectangle can only be played if the player has a Psychic Penguin or alien down, respectively.
Ad blocker interference detected!
Wikia is a free-to-use site that makes money from advertising. We have a modified experience for viewers using ad blockers

Wikia is not accessible if you've made further modifications. Remove the custom ad blocker rule(s) and the page will load as expected.