Prepare yourself for an all-new Killer Bunnies adventure, with familiar fun for fans and new players alike! Find the Magic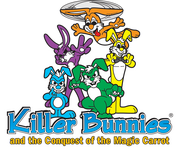 Carrot and claim ultimate glory over your opponents in Killer Bunnies and the Conquest of the Magic Carrot, the fun and crazy follow-up to the popular
Killer Bunnies and the Quest for the Magic Carrot
card game.
Keep your bunnies alive, while eliminating your opponents' bunnies with whimsical and sometimes very deadly weapons! Other players will stop at nothing to keep you from collecting carrots and taking the win, in this hilarious game that is full of spoofs, parodies and hysterical references.
Conquest will have you plotting your strategy (not to mention your revenge), managing your resources, crossing your fingers, bartering with the enemy and doing whatever it takes to claim the Magic Carrot and win the game! In this wacky adventure, all is fair in carrots and war!
Killer Bunnies and the Conquest of the Magic Carrot Starter deck can be played on its own, but it is completely compatible with the Killer Bunnies and the Quest for the Magic Carrot.
You'll be surprised by an entirely new array of wacky weapons, risky P-cards and wince-worthy Terrible Misfortunes!
Mixing with Quest
Edit
Because The Quest for the Magic Carrot and The Conquest of the Magic Carrot are functionally compatible, owners of both games can mix them together.
Ad blocker interference detected!
Wikia is a free-to-use site that makes money from advertising. We have a modified experience for viewers using ad blockers

Wikia is not accessible if you've made further modifications. Remove the custom ad blocker rule(s) and the page will load as expected.